Marockin' Brass stelt een stomend Gnawa Jazz project voor samen met de Britse trompettist Byron Wallen en de drummer Rod Youngs. Het album komt uit in het najaar 2014.
De connectie tussen gelaagde soundscapes, vraag- en antwoordstructuren en de veelheid aan akoestische timbres werkt verbluffend efficiënt. Het gebeurt gewoon, organisch en op de climax van de dialoog tussen een sublieme sectie jazzvirtuozen en Marokkaanse gnawa meesters. De improvisatietaal is striemend en de ritmesectie is meedogenloos. Deze band stuwt de groove vanuit zijn diepste punt en besmet je met een oprechte energie, genereus en zonder enige beperking...
"Byron is one of the most innovative, exciting and original trumpet players alive" (Jazzwise Magazine).
Widely recognized as a seminal figure in world jazz, he is constantly travelling the world recording, teaching and performing.
Waarom Wallen? Tijdens een eerste ontmoeting tussen Luc Mishalle en Byron Wallen (Klinkende Munt, Brussel 2005) werd snel duidelijk dat beide muzikanten een bijzondere interesse hebben voor gnawa muziek en meer bepaald de integratie ervan binnen een jazzcontext. Daaropvolgende ontmoetingen brachten bijkomende affiniteiten aan het licht wat hun schrijfstijl betreft: verglijdende ritmische patronen, schijnbaar simpele melodieën, complexe en horizontaal vervlochten structuren in plaats van verticale harmonieën, fragmentering van geschreven materiaal etc.
in samenwerking met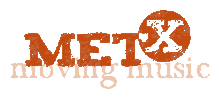 MET-X is een productiehuis voor grootstedelijke muziek. Een huis van en voor muziekmakers. Uit de buik van de stad halen wij ruwe geluiden naar boven die we omtoveren tot een uniek klankuniversum. Onze klankenwereld sluit aan bij de geluiden van de vinnige metropool. Soms luid, soms zacht, soms mooi, soms lelijk. Altijd opwindend. Moving music. Muziek die beweegt.